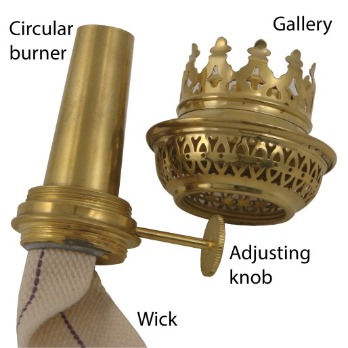 Burners
Our oil lamps are supplied with three types of burners.
The "rope" burner is the simplest one and employs a small circular wick, like a candlewick (and isn't adjustable like the Perkeo burner). The flat burner employs a flat wick and so yields a much greater amount of light.
The circular burner uses a wide flat wick kept in a tubular shape. It yields the greatest amount of light by far.
An oil lamp with a 14''' circular burner consumes around 40g of lamp oil per hour, equivalent to 53ml per hour. This corresponds to an energy consumption of 508 watts. This energy is transformed to 102 watts of radiant heat, 405 watts to convection heat and only 1,26 watts are transformed to light! Only 0,25% of the input energy is converted to light. The oil lamp is therefore also a great heater!
Oil lamp encyclopedia
A circular burners oil consumption and luminous intensity:
Lines

Consumption/hour

HK (=1,11cd)

"Light watts"

"Heat watts"

6'''

27ml

6

8,5

250

8'''

34ml

8

11

325

10'''

39ml

9

12

375

12'''

45ml

10

14

430

14'''

53ml

12

17

508

15'''

53ml

12

17

508

20'''

73ml

17

23

700

Incandescent lamp (40W bulb)

29

40

38
The quantities are approximate and based on given data of a 14''' circular burner in "Das moderne Beleuchtungswesen" from 1914.
The size of a circular burner is still expressed in "lines".
1 foot = 1' (= 12 inches)
1 inch = 1'' (= 12 lines)
1 line = 1''' (= 2,1 mm).
Candela is the unit for light intensity. Originally candela was defined as the light intensity from a small candle. In Germany they used a Hefnerkerze which gave 11% more light.
1 candela = 1 cp (candle power).
1 candela = 0,9 HK (Hefnerkerze).
Lamp oil, kerosene or paraffin (oil)? We recommend odorless kerosene, this will give you an odorless combustion and make your wick last longer. Most important, make sure it's a pure mineral oil.
Odorless kerosene density: 0,75.